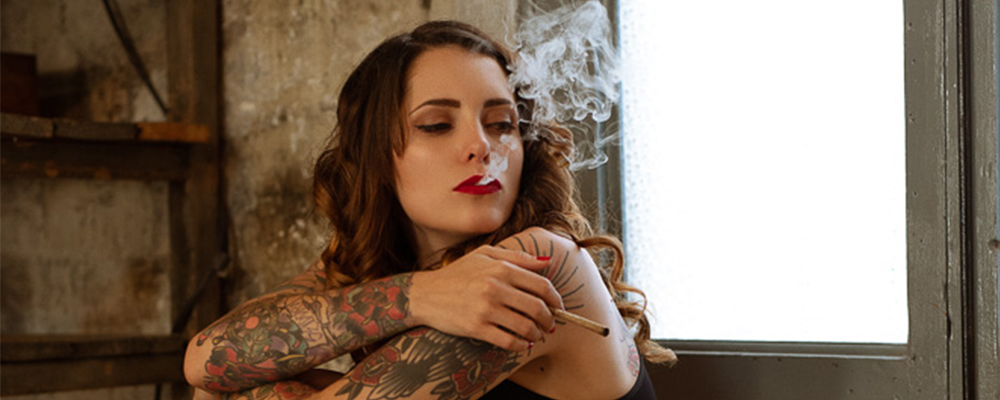 Beauty and the Weed
"I was kind of a late bloomer…I think I was 18."
Charlotte was around 18 when she had her first time with marijuana. She was at home with friends that used to smoke; since she had never smoked before, she tried edibles instead.
She and her friends decided to make a tortilla, a type of Spanish omelette, and cookies using cannabis. It was an incredible night. They couldn't stop laughing and today our model looks back on the night fondly. Since that night, she only had edibles for awhile and it wasn't until later that she started to smoke marijuana. Nowadays she'll have weed in any way, shape or form!
Her favorite type of strains are indicas. When she's high she prefers to spend time with her friends, laughing hysterically like that first magical time.
Alcohol or Cannabis?
Our Weed Girl likes both. Depending on her plans and whether it's day or night, she might smoke weed or reach for a cold drink.
"A beach bar at night with a cold beer is divine."
Charlotte's favorite drink is beer–it's the perfect companion for a night out or kicking back on a beach in the summer.
In her opinion, weed is better for a night in and is a bit more intimate.
On Being a Weed Girl
Charlotte is very happy to be a Weed Girl and has had a great time as a part of our cannabis community.
"I feel comfortable."
During previous photo shoots, she felt at ease with the photographer and was convinced that he would produce quality work.
"…the last [fotos] are the best."
Our model confesses that even though at first the photo shoots didn't feel as natural as she expected, the whole thing eventually became second nature. Patience paid off and the results were spectacular. It's always like that for her and is just part of the process of modeling.
Let's Get Physical
Her favorite part of her body is her nose because it's the same as her grandmother's and is one of the many things Charlotte shares with her.
"I don't know [how many tattoos I have], I've never counted." Save
At 18, she had her first tattoo done on her back. Today, she wouldn't be able to tell us how many tattoos she has. One thing's for sure though; her favorite is her mom's signature.
On her left forearm you can find a small tattoo bearing her mother's signature. It may be the least intricate mark she has, but it's definitely the most special. In fact, her sister has the same one.
Light My Fire
A trip to an exotic place is the perfect gift for this girl. If you have the chance to take her somewhere, keep in mind that she's never been to Cuba and that it's a place she's always dreamed of visiting.
As far as looks go, this girl is really into long hair. In addition to the long hair requirement, Charlotte is looking for a cultured man that likes to read and is independent and outgoing.
If you invite her over for a night of Netflix and chill, you should know that she's the type of girl that likes independent films and can't stand the usual American comedies, action movies or worst of all, horror flicks.
A last word of advice: even though this girl loves driving fast, there are just some things that she definitely prefers to take slow.
Her Spirit Animal
The craziest thing she's ever done in her life was go skydiving, some five thousand meters above the ground. At the moment she considers this her greatest achievement.
"I'm more of a feline."
Even though the beauty has two dogs, she claims to be more of a cat person. There's always been a cat in Charlotte's life. She identifies with the animal and she believes it represents her.
"…I thought to myself, what a stupid trend!"
During the summer, our Weed Girl loves rollerblading around the city or swimming but you can find her doing yoga anytime, anywhere.
When she started, she saw everyone doing yoga on Instagram and thought it was just a silly trend. She was surprised when she realized that her practice actually strengthened her back and that she didn't have to go to physical therapy anymore. Today, yoga is something she really enjoys and respects.
Personal Life
While not much of a dancer, you can still find this beauty getting her groove on after a few drinks. When she's with friends she goes with the flow, but this girl is a rocker at heart and will go with a rock bar if given the choice.
Depending on the situation, Charlotte sees herself as both a sexy and a strong woman. Looks can be deceiving so she usually acts tough so that people don't worry about her.
Dependiendo del momento, se ve como una mujer sexy y también una persona fuerte; pero las apariencias engañan, suele mostrar fortaleza para que no se preocupen por ella.
Hear Me Roar
One of the first things Charlotte would do with absolute power over Spain would be to abolish the monarchy.  It's something that she just doesn't believe in.
"Nobody is interested in or cares [about the legalization of marijuana]."
This Weed Girl is convinced that pharmaceutical companies influence governments in order to prevent the legalization of cannabis use. Countless therapeutic properties paired with the fact that the plant can be grown anywhere poses a threat to business.
Charlotte
Charlotte was born in Murcia and is a Virgo. Currently she is studying sociology, her dream is one day have her own farm with animals and a lot of plants, marijuana included. She is volunteering in a dog shelter home.
The model has lived in Scotland, Barcelona, Malaga and at the moment calls Tarragona her home. She loves to travel and while her favorite place is Thailand, the best experience she ever had was travelling alone in Lisboa, Portugal.
"…you need to really care about others."
Charlotte describes herself as a humble and empathetic person. It's no wonder she is volunteering in a dog shelter home now, and in other similar areas in the past.
Between the beach and the mountains, this girl will definitely choose the beach bum lifestyle. She's always lived by the sea and can spend hours on the beach. When she was little she would spend the whole day there with her grandmother and still does so as an adult.
"Fighting hard…is something I lack sometimes."
The model greatly admires people that work hard for their dreams. She feels like she needs that same type of enthusiasm to reach her goals.
Faced with the zombie apocalypse, she would strengthen security at a house away from any city or town. Since it's in the middle of nowhere it would be the perfect safehouse for her and her family.