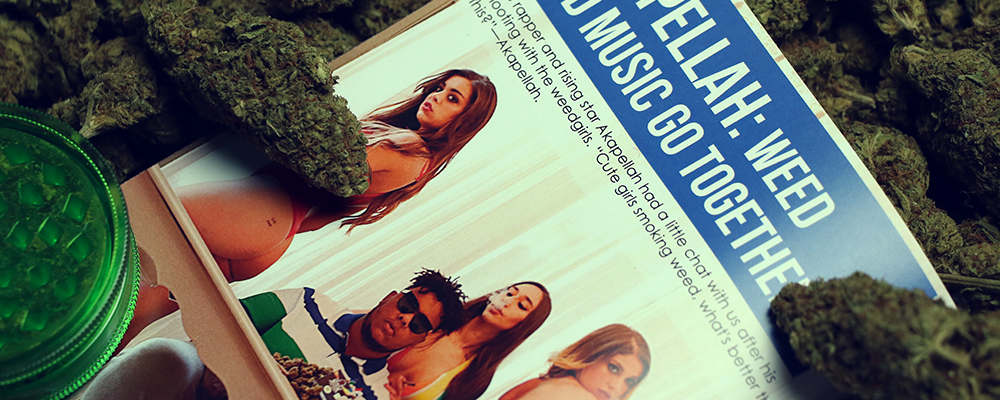 Akapellah: Weed and Music go together
Rising star Akapellah had a little chat with us after his shooting with the weed girls. "Cute girls smoking weed, what's better than this?"—Akapellah.
Weed & Fame
Making music while he smokes is something he does regularly. "Music, music and only music… Oh, and PlayStation".
During his days in Venezuela, where he grew up, he used to get indoor weed (A.K.A. Krippy)—there isn't much variety of marijuana in his hometown. It wasn't till he moved abroad that he discovered his love for Indica strains.
"I didn't plan it. I just made music and reached a point where I did nothing more than music and for some reason it turned out quite well", Akapellah said.
He has collaborated with artists such as Kase.O, Lil Supa' or Akon, and his song 'Los Gordos' gave him the opportunity to work with Fat Joe and DJ Khaled in Summer of 2018.
Love for Weed
Near 2010, during his first official rap concert, Akapellah had his first contact with cannabis. Who gave it to him? He doesn't remember. If he liked it? He loved it—so much that he prefers cannabis "a thousand times" over alcohol. Actually, he currently has his own genetic: OGB Kush.
It took about a year of development for OGB Kush to be released. According to Akapellah, designing a new Indica strain—finding the right balance between flavor and effect—was the most exciting thing since he founded his company. OGB Kush can be found in grow shops across Latin America and Europe.
The worst experience he had while being high was that time when he got locked in an elevator. He's not a big fan of closed spaces, so paranoia and claustrophobia took him over. "It's happened to me several times. I hate it", Akapellah confessed.
Haters Gonna Hate
According to some of his fans, fortune and fame has changed him but the rapper won't stop at criticism. As an well-known artist he considers that he is exposed in a showcase; therefore, it's inevitable for him to be judged.
At the moment he's working on singles, singles and more singles. Also, an album with a famous rapper will see the light very soon. So, stay tuned to this rising star.
Work With Us
Are you a model or a photographer? Do you want to be part of Weed Girls? This is your chance! Since many people have contacted us from a lot of places wanting to be part of Weed Girls, we've changed the way we generate content and, from now on, you can be part of our team, no matter where you are.