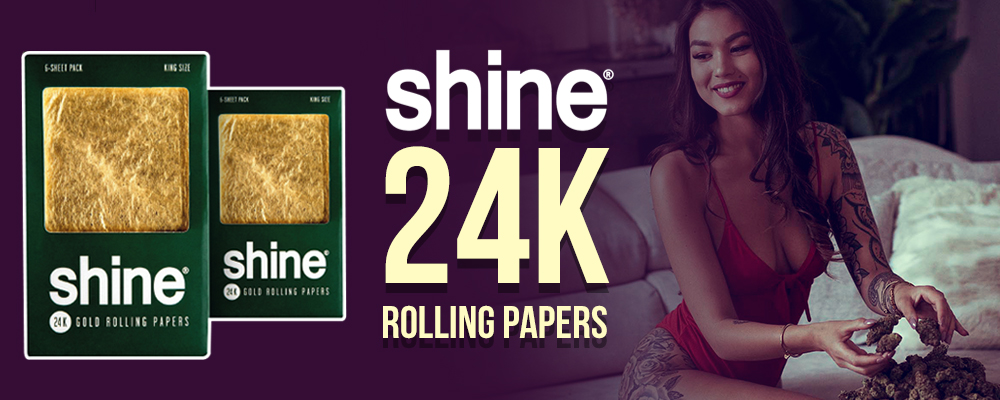 24k Gold Rolling Papers by Shine Papers
Let's get GOLD.
If you are looking for luxury rolling papers, Shine Papers is THE hype now, and our pretty stoner Daniela is going to tell us all about it.
Shine 24k Gold papers are getting a lot of attention for being the first 24k gold weed rolling papers on the market. They are meant to be high-end both in terms of appearance and quality of the smoking experience. They are handmade with hemp and gold, with a special glue which gives slow and continuous burning; they are super thin and have no effect on the weed' s taste.
With Shine, users get a smoother and classier experience than with regular papers. For special occasions, 24k Shine Papers is your go-to accessory; switching to a fancier type of paper than the normal ones can be a great way to celebrate the day, also it's a cool gift for someone special.
Shine papers are the real deal; they are durable, roll like regular papers, and have a slow burn, leaving a lavish impression with a shiny doobie and gold embers left on the ashtray.
in addition to that, for all the classic smokers, they have the Blaze Shine line, king size papers, super thin, hemp blend paper that is the slowest burning and cleanest tasting paper we've tried.
Weed Girls approved! Let it shine.
If you want to buy the 24k Gold papers and pre rolled cones access their website here.
shinerollingpapers.com
Work With Us
Are you a model or a photographer? Do you want to be part of Weed Girls? This is your chance! Since many people have contacted us from a lot of places wanting to be part of Weed Girls, we've changed the way we generate content and, from now on, you can be part of our team, no matter where you are.