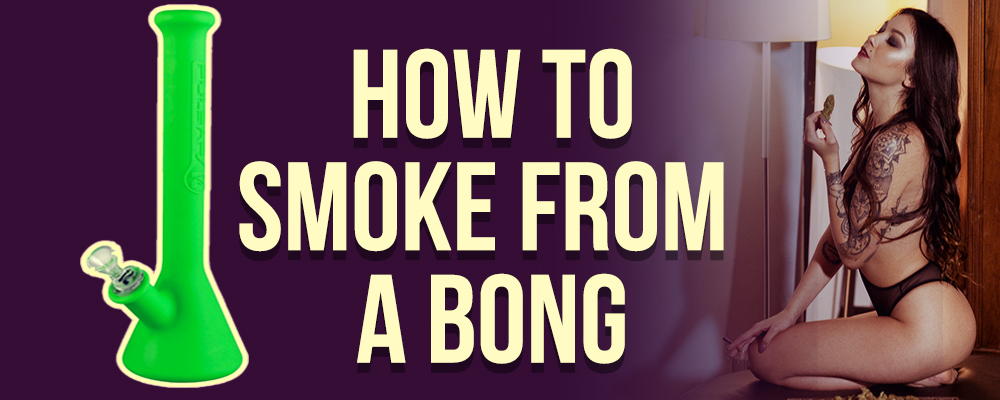 How to smoke marijuana from a bong?
Let's start from the beginning
The first thing we have to tell you is that Bongs are a tool that has become very popular lately, however many skilled smokers have always turned almost anything into a bong. A commercial bong is typically made of glass. But, they can also be made of other materials, you can even find folding bongs made of silicone.
Must Watch | Weed Girl Slava!
Components of a bong
Whichever type of bong you are using, they all have some key components:
The bowl is the piece where you will place the real grass.

The downstem holds the bowl. It also extends to the base of the bong, where it will submerge in the water.

The base of the bong contains water.

The smoke accumulates in the smoke chamber. This is the long cylinder that extends upwards from the base.

The nozzle is the opening in the upper part of the smoke chamber. This is where the mouth is placed to inhale the smoke.
Are bongs not your thing?
It's easier if a Weed Girl explains it!
Now, if you thought that smoking in bong was only for experts, well, of course not! Our hot Weed Girl Daniela is a marijuana connoisseur and has tried just about everything, from the run-of-the-mill to the dankest of the dank. In this video, she teaches you how to smoke from a bong (for beginners).
Work With Us
Are you a model or a photographer? Do you want to be part of Weed Girls? This is your chance! Since many people have contacted us from a lot of places wanting to be part of Weed Girls, we've changed the way we generate content and, from now on, you can be part of our team, no matter where you are.