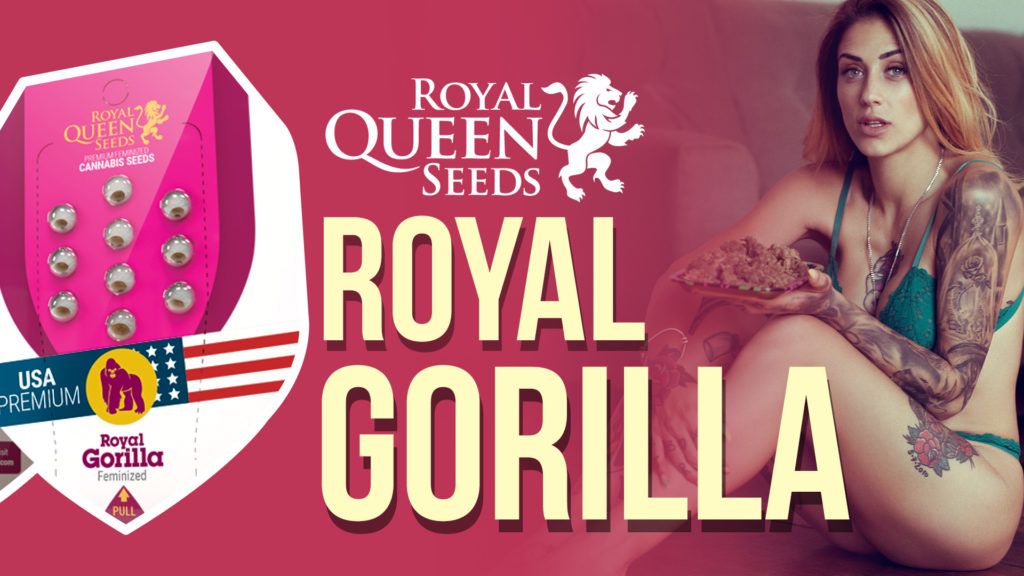 Royal Gorilla from Royal Queen Seeds.
This time, our Weed Girl Cris, is going to try this powerfull strain from Royal Queen Seeds: The Royal Gorilla.
Royal Gorilla is a popular and powerful strain known for the enormous amount of resin it produces, high in terpenes and cannabinoids, with some specimens exceeding 25% THC.
The result of an accidental cross between Sour Dubb and Chem Sister, this clone-only cultivar quickly conquered growers with the abnormally high quality of it's flowers, with only average yield but one of unbelievably resin-heavy buds that release a mouthwatering floral aroma.
The effect is very relaxing physically, euphoric and elevating, the Royal Gorilla can be very effective at combating stress, and its 24-26% THC make it a good option for medicinal users looking to harvest cannabinoid-rich plants.
Its sweet, earthy aroma, enriched with pine and lemon notes, along with the high production of trichomes, make Royal Gorilla the perfect candidate for making all types of cannabis concentrates and hash.
Like any other plant, cannabis plants need nutrients, ample water, and oxygen to thrive. It is why choosing the best soil for cannabis is vital to the quality and quantity of cannabis you'll get.
Sativa/Indica:50/50%
Flowering: 9 weeks indoors, October outdoors.
Height: 90-150cm indoors, 1.5-2m outdoors.
Flavor – Earthy
Climate – Hot
Effect – Active-Alert
Genotype – Hybrid
Cris loved and Weed Girls approved!
If you want to buy the Royal Gorilla Seeds, click here.
Also, you cand find a great variety of seeds on Royal Queen Seeds webpage.
https://www.royalqueenseeds.es/
Enjoint!
Work With Us
Are you a model or a photographer? Do you want to be part of Weed Girls? This is your chance! Since many people have contacted us from a lot of places wanting to be part of Weed Girls, we've changed the way we generate content and, from now on, you can be part of our team, no matter where you are.