Women in the Cannabis Business
The cannabis Industry has been growing at a staggering rate across the world. 
As its legalization spreads like wildfire, the canna-business is adapting itself to this new industry. One particularly interesting fact in the new business model, is the sheer amount of women within it.
Consuming cannabis has always been a predominantly male thing, with 13% of its consumers being men and only 7% women. (2017 studies). However, this is about to change.women can now be seen popping up all across the cannabis industry, as advocates, activists, business owners, scientists, or simply consumers.
The law that allows the farmers to cultivate and distribute cannabis, has greatly influenced hemp and hemp-based CBD industries, that include cosmetics, wellness products, fashion, sustainability and also superfoods. 
Women came to the business to change our perspective about cannabis and its uses. No more stoner stereotypes, no more judgments. Women came to raise the flag of medicinal use for hemp. 
Below we highlight some of the most influential and powerful women in this innovative industry:
Dr. Lakisha Jenkins, Master Herbalist. 

Member of the American Herbalist Guild, Dr. Lakisha is a registered master herbalist and traditional naturopath. She has partaken in writing legalization laws for the state of California as a founding member of the California Cannabis Industry Association. She is deeply committed to traditional and alternative health therapies.  

Shanita Penny, Founder and CEO of Budding Solutions.

Internationally recognized as a management consultant, Shanita Penny has greatly contributed in helping companies improve their business performance for over a decade. Founder and CEO of the consultancy Budding Solutions, Penny is a proud cannabis activist and strives to help the world "rethink Cannabis'' by providing management consultancy to entrepreneurs in the market. 

Johanna Motz, Cofounder of PolyKulture Cannyard.

Striving to pioneer a more ethical way to farm, Johanna is cofounder of PolyKulture Cannyard. She oversees Marijuana plant growth operations by only using regenerative farming practices. She believes in responsible cultivation, with no chemicals, soil degradation nor water waste. She also encourages the public to ask themselves where their cannabis is from, who is growing it and what are their ethics behind it?

Charlo Greene, Advocate for Marijuana Legalization > gogreene.org

Greene is a pioneer in the Cannabis Business, likely best known for quitting her job as a reporter on air while covering the Alaska Cannabis Club. The High Times magazine awarded Greene its Courage in Media Award, and the ELLE magazine listed her as one of its "13 Most Potent Women in the Pot Industry." Greene continues to fiercely advocate Cannabis legalization, with a popular daily talk show, a new CBD beauty line, and ongoing efforts. 

Mary Jane Gibson, Culture Editor of High Times Magazine.

Mary Jane has been on the High Times editorial team since 2007 and now she is covering culture, entertainment and trends. Gibson believes the Cannabis industry can benefit from listening to the people that actually smoke weed and have a based background and a real feedback.
Women are spreading in all business areas, including the Cannabis industry, that has always been ruled by men. It is their time to discover and pioneer; now is their time to find new ways to use the plant, new benefits, new perspectives and less judgment. 
We go girls, lets enjoint together.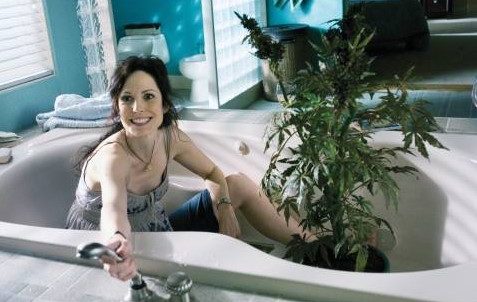 Empowered womens of marijuana! Click here to learn more!
Work With Us
Are you a model or a photographer? Do you want to be part of Weed Girls? This is your chance! Since many people have contacted us from a lot of places wanting to be part of Weed Girls, we've changed the way we generate content and, from now on, you can be part of our team, no matter where you are.