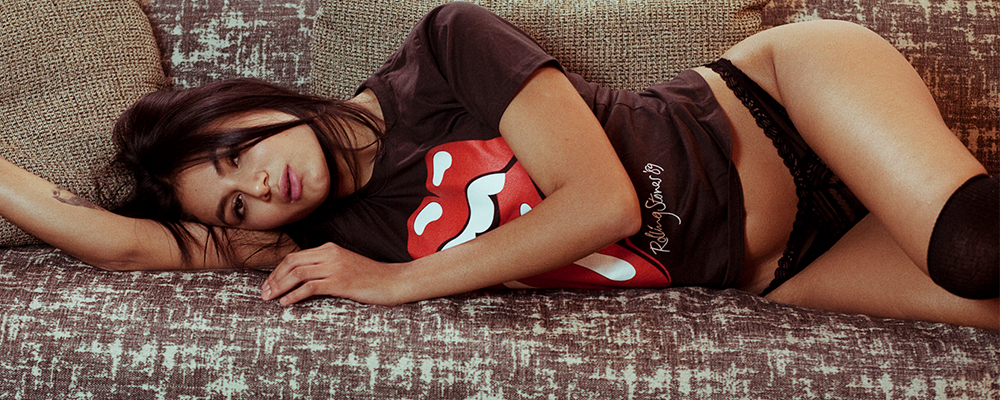 Beauty and the Weed
She was 13 years old the first time she tried weed. She was with a bunch of friends and it was terrible for her because she got too high and couldn't move. It was the first of many unforgettable nights.
Angie does not have a favorite cannabis type. She loves to smoke and taste any kind of Mary Jane —if it gives her the buzz, she likes it.
"I really like to be chilled out…"
She likes to relax at home, watch a movie or listen to music when she smokes. For her, being high is synonymous with tranquility.
Alcohol or Cannabis?
The rush that alcohol gives her is very different from weed's —it's more about going out partying and live experiences to the fullest. Her favorite drink is tequila and it's always the beginning of a night of madness.
"It creates an effect on me…"
Although she loves alcohol and cannabis, they are two loves that she doesn't like to mix. They cause very opposite effects and when she smokes she never drinks and when she drinks she never smokes.
On Being a Weed Girl
The best thing about being a Weed Girl is the empowerment that gives to women. Normalization of women in the cannabis world is a fact, and women have the right to smoke marijuana like any man and express their sexuality without any complexes. It's an ideal platform to cure prejudices.
"…a good result."
Her connection with the other girls and the production team of Weed Girls have been the perfect formula for an excellent photo session. Angie is convinced that the result will be a total success.
Let's Get Physical
"I love my ass… because hell yes."
When she was 13 she got the first of eleven tattoos that now adorn her body, but it's her ass what she likes the most. She loves how their butt looks in her pants as well as dresses.
Light My Fire
It's essential for her that her partner makes her laugh when appropriate and be honest in any situation. A trip would be the perfect gift for her, since our Weed Girl is an adventurous and wild spirit.
It's important for her that her partner would be a man with a high sexual energy —Angie lives emotions to the fullest, both in her public life and private.
Her Spirit Animal
Our Weed Girl loves Indie music and she has confessed that she always needs background music in her day-to-day life.
The lion represents her because she is a brave woman who enjoys activities that put their adrenaline levels to the limit —she is the queen of jungle.
Personal Life
"I love to party. I live partying "
Although reading a good book in the comfortness of her home is her favorite activity, our beautiful model has the party in her blood. She loves to dance bachata, reggaeton and any genre that makes her body moves.
"I'm a beast."
Those who get to know her very well know that Angie is a very sweet woman, despite her bad humor —which she admits having. She is a very charismatic and sensual woman, who always makes herself noticed.
Angie
Angie was born in Ecuador and she's currently living in Spain. She's working as a waitress and a model. Her biggest dream is to make a living out of modeling.
She loves to travel. Out of all of the places she has visited, she admits Rome is her favorite city so far. It combines the perfect mix of history and fun. She would love to travel to India and see with her own eyes everything that's in there to expand the mind to its fullest.
"I'm a city girl"
She loves the noise, the people, street lights and malls. She needs to be surrounded by many people and live human progress.
She is a huge fan of Kendall Jenner, and she can see a resemblance to her, so she greatly admires her physique and personality —it's her inspiration.
She is a woman who cares for her loved ones. In the face of a tragedy, she would look for her dearest ones to make sure they are safe and sound.