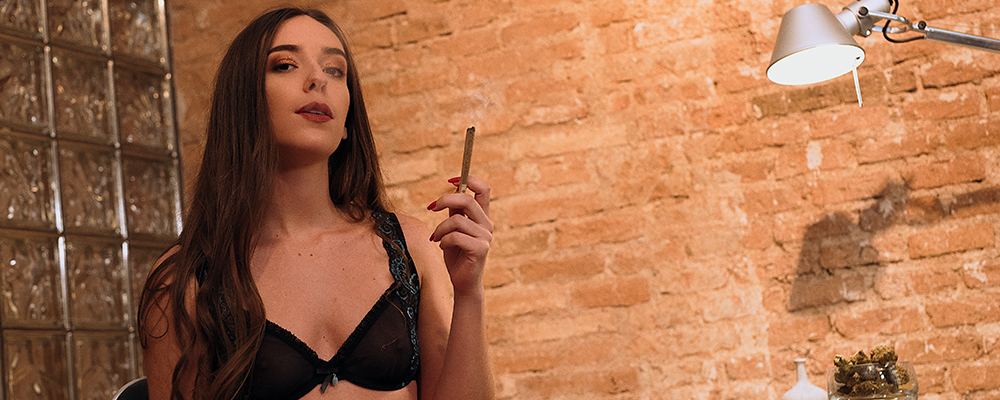 Beauty and the Weed
Irene really knows how to enjoy her bud. Smoking gets her creative juices flowing and will make her start drawing. She's also much more aware of her body and sensuality.
Her favorite strain is L.A. Confidential, a hybrid made of 90% indica and 10% sativa. It also happens to be the preferred variety of Snoop Dogg and Cypress Hill.
Our model's first time was when she ate "special" muffins. As soon as the weed hit her, Irene couldn't stop laughing and eating.
Alcohol or Cannabis?
When drinking, Irene will opt for rum. That said, she still prefers marijuana.
"… [With weed] everything is a pro!"
According to our model, the best thing about weed is that you don't have to deal with a hangover. There aren't any cons when comparing marijuana to alcohol: it's relaxing, you're constantly laughing and it gives you an appetite. The last point is a special advantage for our Weed Girl since she absolutely loves to eat.
On Being a Weed Girl
"The experience? Just look at how cool it is!"
Irene felt very comfortable at her first photo shoot with Weed Girls. The whole experience was really fun–she never stopped twerking, dancing and just having fun in front of the cameras.
Let's Get Physical
"I love my butt because it's my money maker!"
Irene's favorite asset is her–ass! As a professional twerker, the model follows a strict routine at the gym to keep her backside in peak shape for performances.
"I really love it."
One of her two tattoos, the one on her right forearm, was done by her best friend that was learning to be a tattoo artist. It had been a really bad day for her and after a few drinks, her best friend gave the model her favorite tattoo.
Light My Fire
Her biggest turn on in a man is that he's calm, independent and knows how to give her space.
It's not all about looks if you want to win her heart. You also need to have a good sense of humor and make her laugh.
If you want to find her the perfect gift that will sweep her off her feet, look no further than some bomb sneakers that she's sure to love.
Her Spirit Animal
"Travelling around the world by yourself is pretty crazy."
Even though cats are her favorite, Irene loves all animals. Every creature in the animal kingdom represents harmony, freedom and her wild side. If it were up to her, she'd be travelling non-stop all over the world, challenging all expectations of her.
"I like to take things slow so I can savor every minute."
This Weed Girl doesn't just love to smoke weed. She draws and writes as well, appreciating and taking great pleasure in inspiring moments.
Personal Life
"I like to eat more than I like to cook."
At home, watching documentaries or drawing is part of her routine. And even though eating is one of her favorite things to do in the world, cooking isn't.
Whether alone or with friends, this Weed Girl loves hip hop, soul, blues and jazz.
"I think I'm sweet…"
Irene considers herself to be a well-rounded woman as according to her, she's very sweet while at the same time sassy and provocative.
Hear Me Roar
"It should be legal. There are so many people that need it."
For Irene, the issue of legalizing marijuana is a public health issue. There are a lot of people that depend on or need cannabis for therapeutic reasons, but its criminalization has led to few people being able to obtain the plant in order to alleviate pre existing medical conditions.
"I would give people papers or I would get rid of papers all together."
Irene is a citizen of the world and doesn't believe in flags or borders. If it were up to her, people wouldn't need documentation in order to be able to live in whatever part of the world they want–at the end of the day, we're all human.
Irene
Irene is a virgo and was born in Barcelona, Spain. She makes her living as a dancer and is a professional twerker. At the moment, she's working really hard so that she can one day achieve her dream of being a twerker in the United States, where her talents won't go to waste.
She's a huge fan of Tanya Taylor and is in awe of the fact that she can dance, sing and act in addition to the fact that she's sporty, sexy and intelligent.
"Cuba is my dream."
The model dreams of one day visiting Cuba. Irene is the type of person that appreciates the beauty in every corner of the Earth. Each country has something unique to offer and she doesn't want to live in just one place.
There's no better place for her to live than the beach, and quality of life is a priority for her. Being able to wake up and swim in the sea the best.

"If it's an apocalypse, screw everyone else."
When confronted with the idea of a zombie apocalypse, Irene would do every crazy thing that she hasn't done yet. After everything ends, nothing will matter anyway.