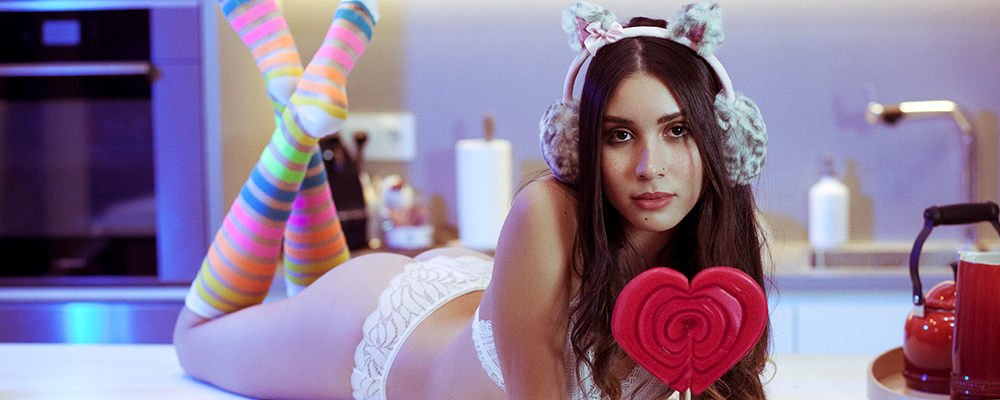 Beauty and the Weed
Jess might be young but her relationship with Mary Jane is not so recent. The first time she smoked was in Venezuela, her home country, with a friend from school at a party when she was 16 years old.
"If I'm at a party and I smoke sativa, I get paranoid".
Our Weed Girl doesn't smoke too much but if she had to pick one strain, she prefers hybrids indica-dominant. Pure indica makes her sleepy and sativas provokes her paranoia if she's in public places or uncontrolled environments. If she's at home or watching movies with her family, she has no problem smoking it. The last TV-show she saw while getting high was Dirty John on Netflix and she says it was awesome.
Alcohol or Cannabis?
Despite liking marijuana, Jess does not rule out the alcohol of her life and considers there's a time and space for each one.
"If I'm going out partying, I'd rather drink alcohol. If I'm going to be chilling at home with friends, watching movies while smoking is the best plan".
A cold piña colada is her best option if she's by the beach or in the pool during summer, but when she parties she prefers a nice mojito or a Rosa Salvaje cocktail.
On Being a Weed Girl
The photoshoot was very natural for our Weed Girl and she felt comfortable from the very beginning and that was important for her.
"If you don't feel comfortable, people can see it in the pictures and videos".
Jess discovered her love for modeling thanks to the photo-sessions with Weed Girls. At first, she didn't know what to do, but once she got used to it and became more confident about posing, everything got easier for her.
What she likes the most about being a Weed Girl is having the opportunity of being photographed while doing something she likes to do from time to time as it is to smoke.
Let's Get Physical
"I do not know what or where".
Jess is a confident girl and considers herself sweet and sexy at the same time. She is one of the few Weed Girls who doesn't have any tattoos, but she's very open about getting one as soon as she finds something that she wants to have permanently on her skin.
"I look like it but I'm really not".
She considers herself a strong person depending on the situation, but sometimes it is only a mask she wears because she is super sensitive and emotional. The part of her body she likes the most are her legs because they are pretty, long and slender. She has a hate-love relationship with her nose but she really likes her hair, her lips and her lashes a lot.
Light My Fire
To get to this Weed Girl's heart, it does not take much more than giving her the correct dose of attention without overloading it.
"He has to be a loving, attentive, extroverted person with a good sense of humor and not very clingy".
Jess likes her space and looks for a partner that walks by her side without expecting to control or dominate her. First thing she sees in a man is the smile, the nose and if he's taller than her or not.
"I have always been very bad at asking for things, I've never asked my parents for a gift".
Sneakers and clothes are the best way to get to the heart of our Weed Girl, but don't expect she's going to ask for them because she's too bad at expressing exactly what she wants and her answer is always going to be "surprise me".
Her Spirit Animal
"I love dolphins!"
Jess is a happy person and a sea lover, which is why she relates herself to dolphins.
She defines herself as a trustful person who would never betray someone's trust. If she is your friend, you can be sure that she will be unconditional to you. She is also super cheerful, positive and familiar.
"I got drunk being underage".
She has never done something too risky in her life but she used her sister's ID once to get into a nightclub and got drunk when she was a minor.
"Either alone or with friends, I always listen to the same thing".
Jess doesn't have many hobbies but she likes to cook, especially desserts, and eat them. She loves making chewy brownies but has never tried to make special ones.
Music doesn't have a special moment for her, she loves to listen to reggaeton and trap either at home or at a party, as well as rap, hip-hop, pop, in English, in Spanish, everything but cumbia or vallenato.
Personal Life
Her home is her sacred space to relax and connect with herself. There, she cooks and sings freely, in the shower or out of it. She loves to sleep and watch movies but she hates washing the dishes.
She could watch About Time thousands of times, as well as other romantic comedies and psychological thrillers. She also loves dancing and it doesn't matter if it's merengue, salsa or reggaeton, she's always ready to take the dance-floor.
Hear Me Roar
"There won't be impunity".
If Jess were president of her country, she would be in charge of improving the justice system through laws and compliance of them. She would also like to legalize abortion and equal marriage, but she has some restrictions regarding euthanasia.
"Consuming marijuana is different than trafficking it".
The legalization of marijuana is not such a complicated issue for her because consumption does not seem a right reason to be punished. Medical uses of cannabis and the positive results it has had in anxious and hyper active people should be enough evidence for its legalization. By legalizing it, traffic would cease and things could be better.
Jess
Jess was born in the city of Maracay in Venezuela. She has been living in Barcelona for almost two years and currently works in a cannabis club. In the future, she would like to work in the makeup or fashion industry.
"Miami because it's like my second home, I feel like I'm in Venezuela when I'm there".
She loves to travel and to visit new places. She is a city girl and a beach lover. For her, there is no better Sunday plan than going to the beach to sunbathe and connect with nature. Her favorite beaches are those of the Caribbean but it's one of her dreams to visit places such as Bora Bora, Hawaii and Bali.
Even though she admires Sascha Fitness, her biggest idol is her mom. She describes her as an extraordinary woman with an open mind who supports her in all of her decisions no matter what. Someone positive, cheerful and whom she has learned a lot from.
In a zombie apocalypse, taking into account that zombies can't swim, Jess would swim to Aruba and wait for the apocalypse to end while sunbathing with a piña colada in her hand. Right after that, she would look for food because she would be starving. Then she would go out and celebrate with her friends… if they survive, of course.