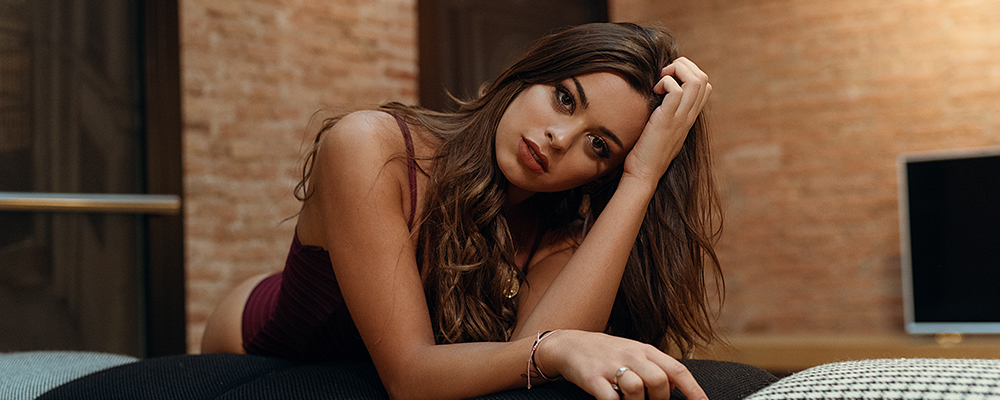 Alcohol or Cannabis?
Lia prefers alcohol. She loves drinking with friends, who help bring out her wild side. Gin tonic is her drink of choice.
Our model tried marijuana for the first time when she was very young. She was with her best friends and was in the mood to try new things.
On Being a Weed Girl
The best thing about modeling in our cannabis community was working with the production team.
"I like feeling sexy, and that makes the photos turn out well."
Our Weed Girl channels her sexuality during the photo shoots. Connecting with the photographer produces fantastic results.
Let's Get Physical
"I'm chaos, and if you don't love that…"
Each of her eleven tattoos holds a very special meaning for the model, but the one on her left wrist is her favorite. It reads: "love your chaos." Lia describes herself as pretty chaotic. If you love her, you also have to accept her chaos.
"Because I do–it's beautiful."
In our cannabis community, Lia is a perfect ten. Even so, we decided to ask her what part of her body she liked the most, and she responded: her beautiful backside.
Light My Fire
The trait she values most in a person, including any potential love interests, is humility. It's also important that he be a little crazy and can go with the flow.
Our Weed Girl's ideal man is hard working, independent, patient (able to put up with her personality) and under no condition tries to control or hold her back.
Her Spirit Animal
Lia is full of life and loves sports and going to the gym. She's an adventurous spirit and would jump at the opportunity to work abroad.
Just like her favorite animal, the dog, this beauty is positive, lively and loyal.
Behind the Scenes
Lia is like any other girl when she's at home–she listens to music, watches TV, cooks and sings in the shower. She's both humble and crazy but also really strong, given that she's gone through some hard times.
Our model loves rap and when she goes out with her friends she moves her hips to reggaeton as she's a huge fan of latin music.
A Perfect World
This Weed Girl is all heart and empathy. Seeing people evicted from their homes stirs a profound sadness within her.
For Lia, the perfect world would be one in which evictions weren't necessary and laws weren't so hypocritical. She just can't get her head around the fact that alcohol, which is very unhealthy, is legal but marijuana isn't.
Lia
Born in Catalonia, Spain, Lia's dream job is to be a personal shopper. She's made her life in Barcelona and loves the sea, which always seems to relax her.
She loves to travel, her favorite destinations being those with tropical beaches. That's why Brazil is next on her travel list.
"I would be in the street killing zombies…"
When asked what she would do in the zombie apocalypse, Lia wouldn't hide. She'd put on her big girl pants, arm herself to the teeth and get out into the street to kill zombies.