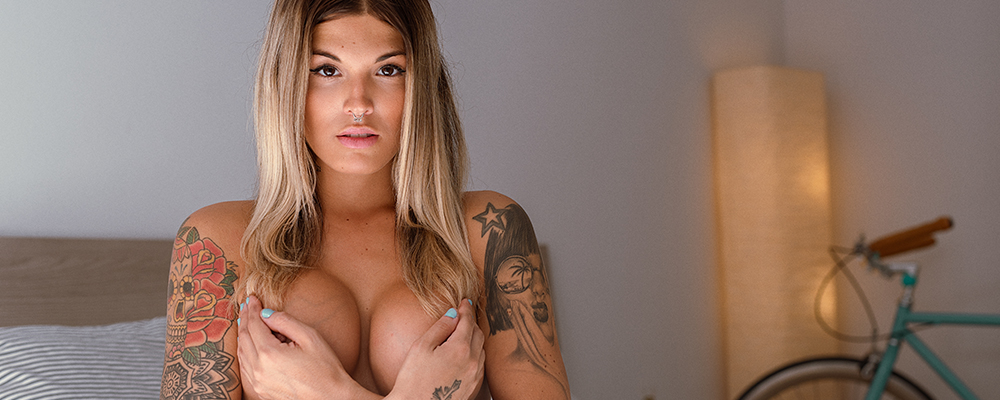 Beauty and the Weed
When Nuria is not dancing, she prefers to relax and enjoy the tranquility of the night, which is why Indica is her favorite type of cannabis.
When she smokes and munchies attack, she likes to eat a lot. Alone or with friends, she lets herself be carried away by the fury of the munchies.
"… I tried it and I liked it."
Her first time trying weed was with her high school boyfriend. He used to smoke maria frequently and gave her a try —and she loved it—. Although Nuria does not like to smoke every day, she is a girl who uses weed to relax, to sleep well and laugh with friends, whenever she has the opportunity.
Alcohol or Cannabis?
For our Weed Girl, marijuana is a thousand times better than alcohol. If she drinks alcohol, you prefers a not-so-strong strawberry mojito, since she doesn't like the bitter taste of alcoholic beverages at all.
"It's hard for me to drink."
Our model would only drink to get drunk, something that rarely happens. She does not tolerate how drinks taste. For fun, cannabis will always be her first option.
On Being a Weed Girl
"I have to be in my element."
During a photo shoot, Nuria needs to feel good with the photographer. She has to be comfortable and in tune with the production's vision —it must be a private and communicative environment—.
Weed Girls community can say: "mission accomplished." During our session, Nuria expressed all her sensuality with complete naturality.
"It's okay to be a girl who smokes marijuana. There's nothing bad on it! "
What she likes the most about being part of 'Weed Girls' community is to show something about women that only a few know: girls also smoke marijuana, and there is nothing wrong with that. In our community, Nuria finds the perfect space to be the woman she is and to express her sensuality without feeling judged.
Let's Get Physical
"… My belly!"
Our beautiful model confesses that her belly is the part of her body that she likes the most. Her whole body is an artwork, but what she likes the most about it is her abdomen.
"A lot … I have like 23 or 24 [tattoos]."
There are many tattoos that adorn Nuria's body. Her first tattoo was a star, a gift from his father for her 15th birthday. But if she had to choose her most significant tattoo, it would be her grandfather's portrait —he was a very important person in her life—. The memories of her grandfather will always be in her heart; and his image, forever in her skin.
Light my Fire
If you want to win this beauty's heart, take her on a date and watch scary and horror movies —it's her favorite genre—; and if you're thinking of giving her a gift, perfume is the perfect gift for her.
"I do not usually pay much attention to the appearance."
This hot Weed Girl doesn't pay attention to appearances, she just need a man who inspires security. For her, trust is fundamental when in a relationship.
The perfect man for our Weed Girl should be fun, understanding, honest, communicative and a good friend.
Her Spirit Animal
Nuria has a lioness' heart. She's brave and can face adversity while remaining calm.
She once made a rope of sheets to escape from her room just to meet her boyfriend. When this Weed Girl is in love, there is nothing that intimidates her or pushes her back.
"… I love to dance"
She is an active woman and when she is not reading, she's at the gym taking care of her body or dancing. She loves to dance —it's something that gives her lots of satisfaction—.
Personal Life
Either partying or in the privacy of her home, Nuria loves to listen to reggaeton and dembow —that's what she likes to dance the most—. But not everything is a party for this sexy model, she is also a very stay-at-home kind of person. She loves to cook and make delicious croquettes, and she's also very committed to cleaning her house.
Although she is a very serious woman at work, during her free time she is a very cheerful, fun and outgoing person.
Hear Me Roar
Nuria doesn't understand why cannabis hasn't been legalized yet and it's penalized by many governments —there are more harmful substances that are legal and we all have the right to consume—. According to her, legalization of cannabis should be given once and for all.
Our model often asks herself why people respect the human rights of those who do not respect them. For her it is a moral dilemma to guarantee the physical integrity of those confessed criminals who have committed homicides.
Nuria
Nuria was born in Spain and works in an automobile repair shop (Nissan). Currently, she works outside of working hours to achieve her dream of becoming an actress.
"Miami, because I'm in my element."
Her favorite place in the world is Miami, where she feels at home, and Hawaii is the destination that she wants to visit someday. She is a beach kind of woman, she needs the heat and runs away from the cold.
"Put on a movie with popcorn."
Nuria is a brave girl who knows how to keep calm under pressure —in fact, she confessed she would watch a movie with popcorn in case of a zombie apocalypse—.