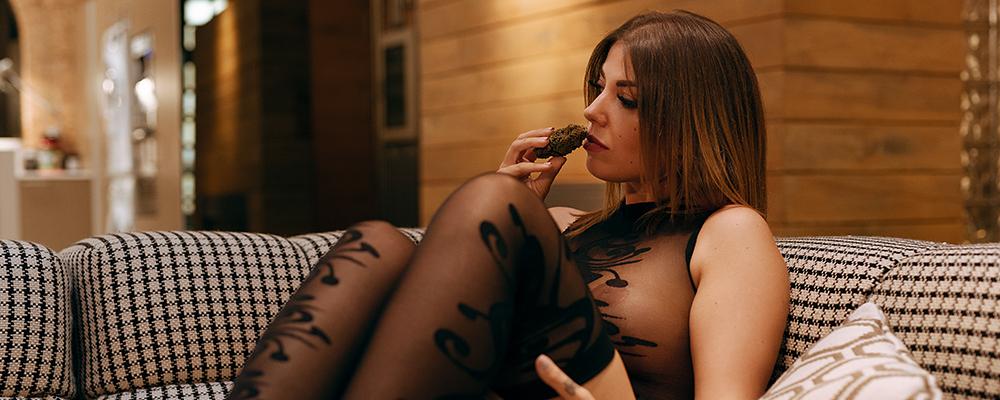 Beauty and the Weed
Raquel's been smoking weed since she was 20, her first time in her hometown with a group of friends were experimenting with cannabis for the first time.
Sativas are her strain of choice both to relax and to dance, alone or with a partner. When she dances, she forgets about her hectic day and just lets loose.
Alcohol or Cannabis?
When pouring up, our Weed Girl prefers champagne, but she's not really very good with alcohol.
Marijuana, on the other hand, doesn't make you fat or hurt your body. In fact, it has the opposite effect!
On Being a Weed Girl
Raquel had great chemistry with the photographer and the Weed Girls team, and it showed in the final product. When a model understands and feels connected to a project, it's hard not to see the difference.
Let's Get Physical
Her first tattoo was done at 18, and since then she's added ten more to her beautiful canvas. Her favorites are the images on her hands, since they represent protection amulets.
"My lips, because they're juicy.."
For Raquel, the sexiest part of her body are her lips. They're definitely one of our Weed Girl's most eye-catching traits.
Light My Fire
If you're lucky enough to take her to the movies, keep in mind that she loves action and horror movies, but will also go for a chick flick.
The best gifts you can give her are jewelry, shoes, clothes or any other fashion forward item.
"…I'm very romantic."
According to Raquel, the ideal man is caring, attentive, loves to cuddle and has a great personality–she confesses that she gets angry easily.
Her Spirit Animal
She loves music and loves to sing. She's a sweet woman, but is also in touch with her sensuality, identifying with and mesmerized by the graceful leopard, her favorite feline.
"Sure I'm crazy, depending on who I'm with and when."
Our Weed Girl has her crazy side. And like a true cat-lover, she's in tune with her surroundings and her sensuality. She even skinny dips at the beach!
Personal Life
Raquel loves reggaeton and she loves to sing in the shower.
Something you won't find her doing is cooking or cleaning. She doesn't really do chores and would rather watch movies when at home.
Hear Me Roar
"I would focus on what's important."
If it were up to her, she would get rid of plenty of "stupid laws" and focus on what's important, like the legalization of marijuana. It's a therapeutic plant that for many is a necessity.
Raquel
A sensual Scorpio, Raquel works very hard to make her way in modeling. She's a city girl, but loves the beach and the mountains. She'll take the summer heat over the winter cold any day.
Miami is her favorite city. The weather's always good and the people always friendly in the tropical American city, Raquel assures us. She's also planning to go to India, a country that she's dying to get to know.
Our model is a big fan of Maluma, the Colombian singer of "Felices los 4" fame. Not only does she love his music, but his winning personality, as well.