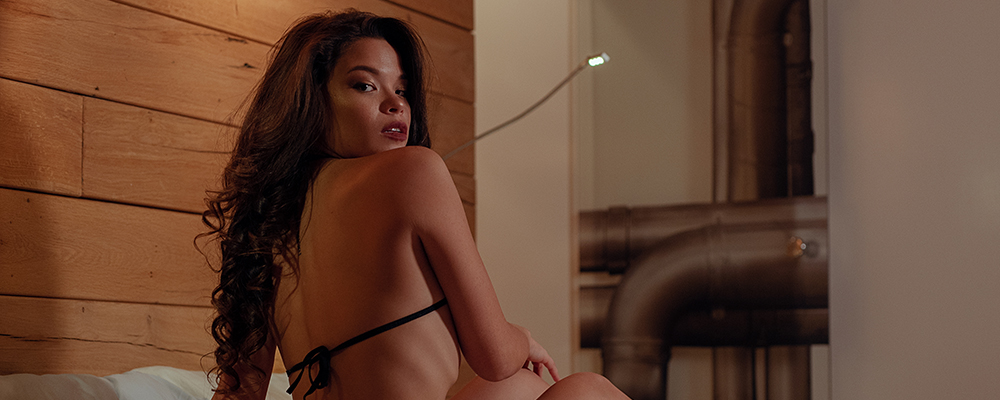 Beauty and the Weed
"… laughing with friends."
Taylor is a cannabis lover and for her there's nothing better than passing around a fat Amnesia joint with her closest friends.
But it's not all fun and games with our Weed Girl; when she lights up, she also reflects on her day. Marijuana helps her make sense of the world.
"…I stopped smoking for a whole year after [my first time]."
A bit of a late bloomer, Taylor tried weed for the first time at 18 and almost suffocated! She was laughing so hard she couldn't breathe.
The experience was rather traumatic for her and she didn't touch marijuana again for a year. When she did finally decide to give it another chance, it was like meeting an old friend and her relationship with cannabis has been strong ever since.
Alcohol or Cannabis?
When our Weed Girl is out with friends, she loves a mixed drink. White Russians, Dark n Stormies and rum with ginger ale are among her favorites to get the party started.
At home and with friends, weed is the best choice–but isn't it always?
On Being a Weed Girl
During her first photo shoot, Taylor couldn't help but feel nervous. It wasn't long, though, before the chemistry she had with the other models put her at ease, making her first photo shoot a success.
"I love feeling sexy."
Taylor embodies the ideals of Weed Girls: a strong woman that is comfortable with her sensuality and that loves marijuana, regardless of societal taboos and expectations.
Let's Get Physical
Our model has two tattoos; one of them is extremely special to her as it's her grandmother's birthday, who had raised her since she was a baby.
"I like everything [about my body]."
An independent and confident woman like Taylor appreciates every inch of her body. When asked what she likes most about her appearance, she confessed that after her face (which she describes as exotic and cheerful), her delicate curves are what make her stand out.
Light My Fire
Our Weed Girl's ideal man is fun, committed and above all, respectful. While chemistry and attraction are important, it's love and respect that she most values in a man.
If you have the chance to take this beauty out on a date, keep two things in mind: she has a weakness for superhero movies and great Asian food.
Her Spirit Animal
Taylor can best be described as a tigress. This strong and capable woman has guts: she left behind everything she knew, including a well-paid job as a bank manager in Los Angeles, to start a new life in Barcelona, all in the pursuit of happiness.
Following this life-changing adventure, our model found peace in drawing and in modeling. After the storm comes a calm.
A Day in the Life of a Weed Girl
When she isn't modeling or working, Taylor likes to chill out with a joint and a good series or music.
"I'm not very good at dancing to latin music."
If she's out with her friends, this Weed Girl loves to get down to hip hop or electronic music. She also likes latin music, although she does confess she's not very good at dancing to it.
"…I always try to be better than I was the day before."
A loving woman, she works every day to become a better person. Her kind heart and playful sensuality are always in balance within her.
A Better World
According to our model, the electoral system in the United States must be reformed. The results of the 2016 elections didn't reflect the will of the majority and the Trump administration is not what she wanted for her country or for her people.
Taylor
Born in Los Angeles, California, Taylor moved to Spain in order to live the type of life that she always wanted. A Southern California native, making her new home in Barcelona was the obvious choice as she needs to be near the sea.
"I do a little bit of everything, and I like it that way."
She does a little bit of everything for a living, including translations, modeling, teaching and administration in a language school, to name a few. Not having to commit to just one profession for eight hours a day suits her lifestyle and is something she really likes.
One day, she'd love to live in Japan for a few months, along with plenty of other destinations on her bucket list. She loves to travel and really get to know other cultures and ways of being.