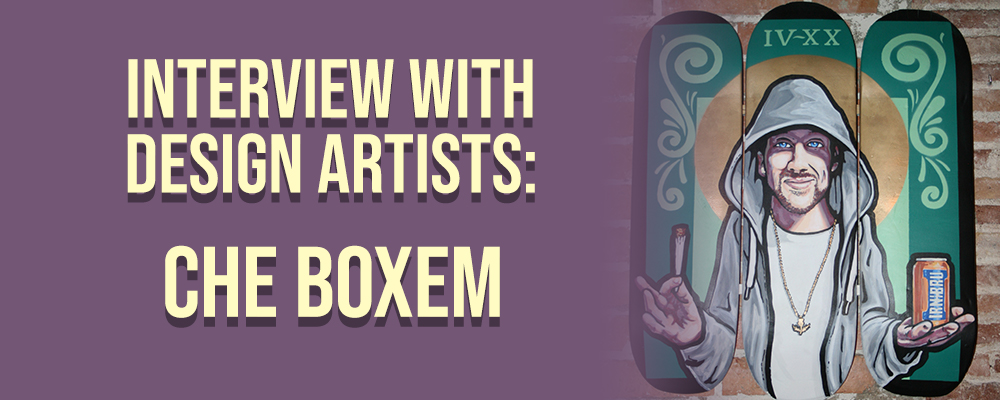 Interview from Weed Girls with Che Boxem
WG: When did you discover your passion and your talent for design? Did you study it or was it something born?
CHB:  As long as I remember I have always enjoyed getting lost in coloring books and creating different worlds on paper and whatever materials I could get my hands on. In school, I would cover my desks in fantasy characters and landscapes, band logos and friends names. I always treat drawing and creating as a learning experience that I need to work at and improve on all the time, so I wouldn´t say that it just comes naturally although maybe I have a natural desire to create cool things.
WG: Of all the visual art you have done, which one is your favorite?
CHB:  For any artist, it´s difficult to pick a favorite piece or experience because everyone has different qualities and a different story. I guess whenever I try something new it becomes my new favorite. Like whenever I step out my comfort zone and experiment and if it works I feel inclined to push it more. For example, the new character logo that I´m running with at the moment is my new favorite creation because I wanted a character that´s recognizable and identifiable as me. It´s simple but can be used in lots of ways so I´m having fun with that right now.
WG: Do you think that marijuana makes you more or less creative when it comes to making your artworks?
CHB:  If I need to get something done fast and without over-thinking then I won´t smoke, or at least I find it better not to but if a joint is getting passed I´m likely to hit it. Smoking weed helps me to think outside the box to come up with new ideas and concepts but I take longer and try more variations which can be a waste of time or can help me come up with a completely new idea. It´s fun to smoke and create, to try something different and then see what you can build from the seed of a new idea.
WG: And when it comes to creating your designs, do you work better when you're high? Does art have any relationship with marijuana?
CHB:  So I think that if I need to get a job finished fast then weed doesn´t help but if I need to push my creativity then yes it can help. I think the real secret to getting better at art and work is lots of practice. If weed distracts you too much from practicing then it´s not going to help you get any better. Working through your high is good as long as you´re working and improving on something.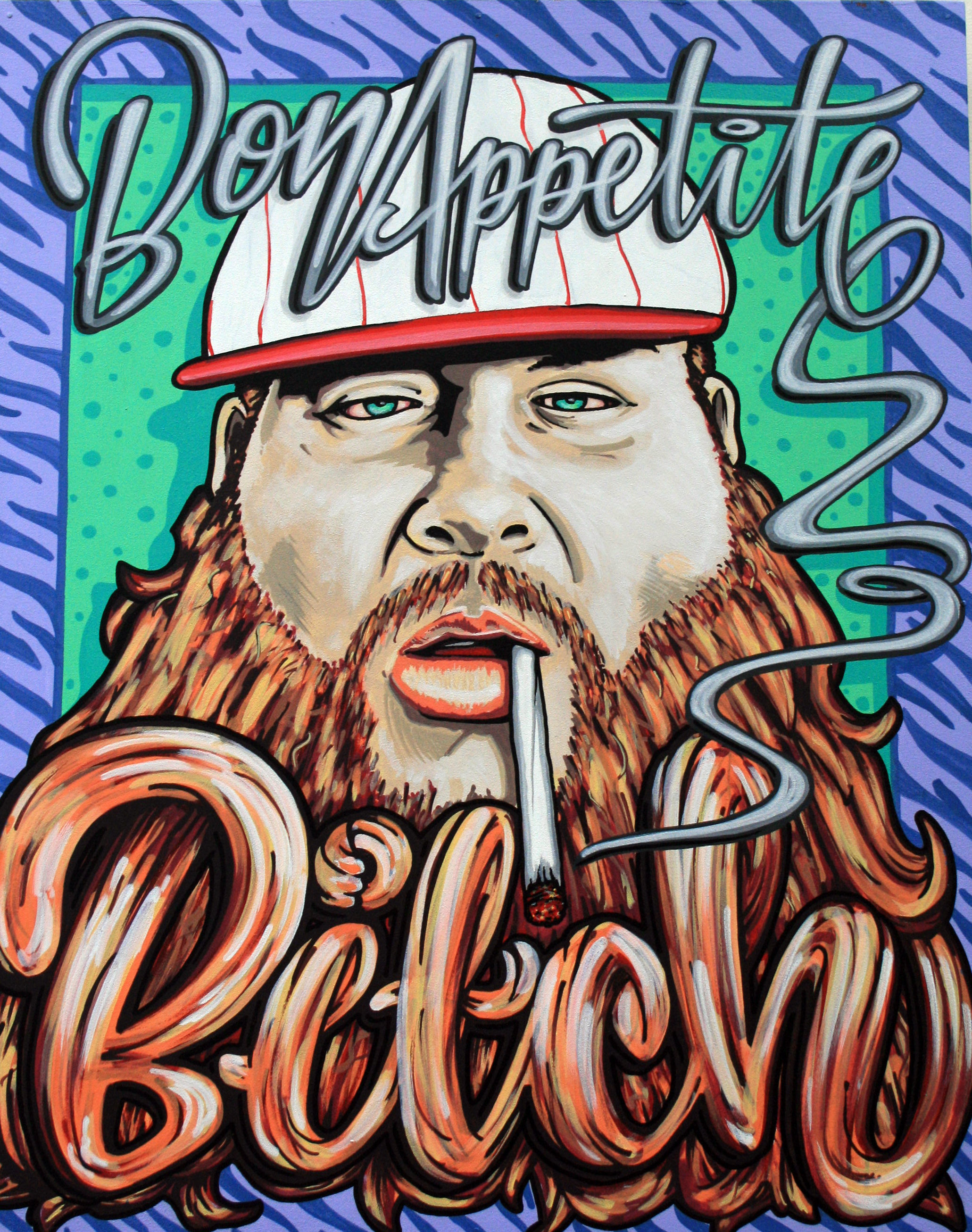 WG: On what is your art mainly based? How would you describe it?
CHB:  Many different things inspire me to create. Obviously, the infinite wonders of nature inspire me but also street culture, music, and movies. I guess my current style started in high school when I would try to copy logos from bands like Sepultura and Biohazard onto my workbooks. Friends would ask me to draw football badges and graffiti their names onto their books as well. I would earn some extra lunch money from that. Later I loved the more adult humor cartoons such as Ren & Stimpy and Beavis and Butthead. I think it is funny to use cartoon colors animation to convey more adult messages and jokes. Graffiti and hip-hop culture took me from there where I spent the next stage of life practicing my own style of letters and characters. I like to create things that make me laugh. My art style really isn´t too deep or serious although I also enjoy dark humor.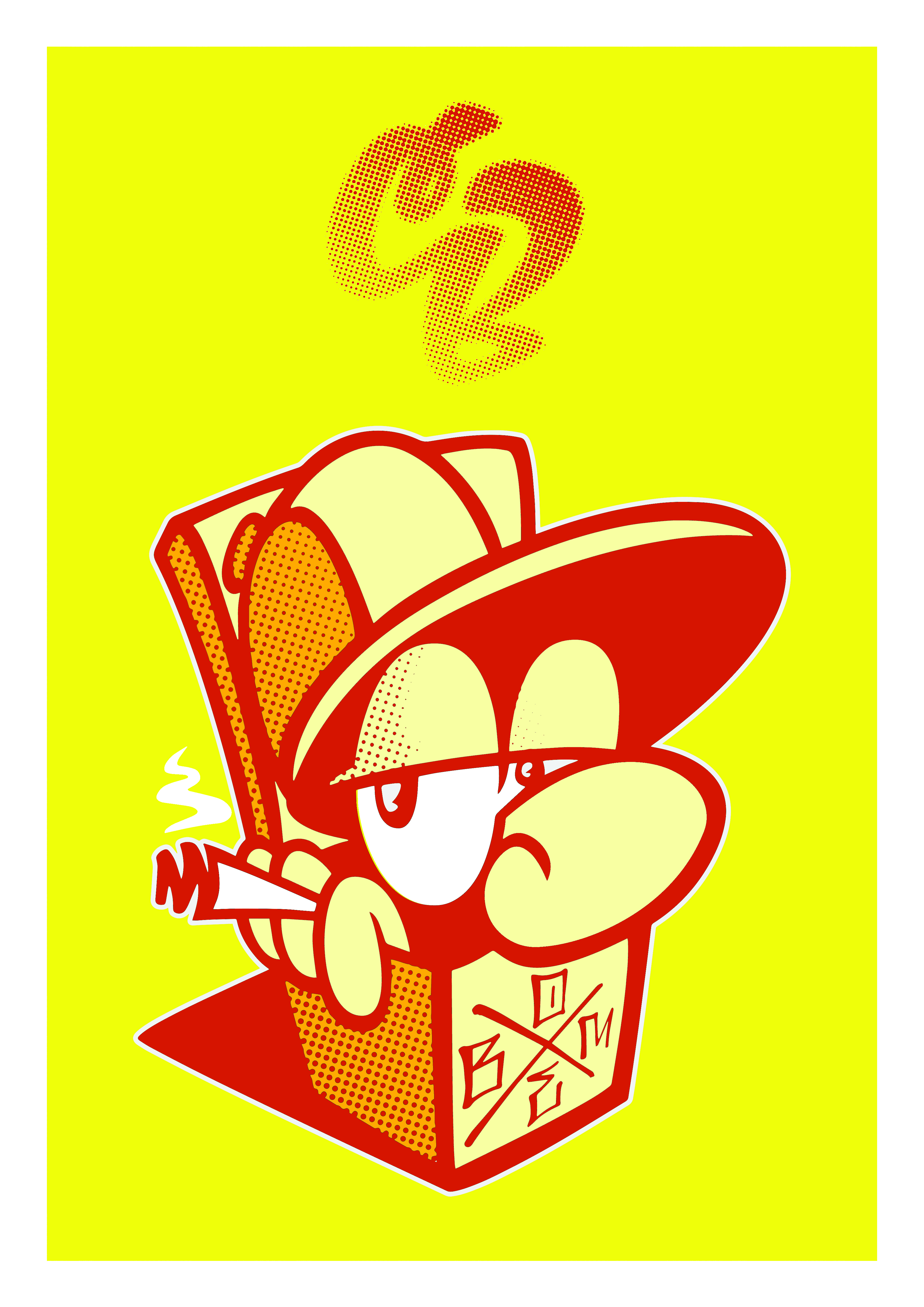 WG: What do you think about involving religion in art?
CHB: I´m not religious although I really enjoy religious art and the power that it can have. I love mythological and spiritual art as well. It´s like visual metaphors of the internal struggles between good and evil that exists inside and around all of us. I´m really interested in different religions and their origins but don´t follow any particular one.
WG: Tell us about the first time you tried marijuana. Who gave you to try it? How was it? Did you like it?
CHB:  Dr. Dre taught me to smoke weed.
WG: When you go out or are you partying, do you prefer alcohol or cannabis?
CHB:  I don´t party so much these days but when I did a lot I would always mix alcohol with weed and whatever else. I would get super messy. For me, they have conflicting effects on my body and mind so it´s not a good idea to mix too much. A little of each is amazing but can turn you upside down fast. It depends on the party, I love beer and I love weed.
WG: What is your favorite marijuana strain?
CHB:  I like to try all varieties of hash and weed and the different ways that they can be consumed. The breeding and extraction techniques are evolving all the time so it keeps getting more interesting. I´m old school though so always go back to joints with a weed, tobacco mix. I prefer Indicas over sativas as I prefer relaxed dopey feels but will try everything at least once.
WG: How has the receptivity of people to your art been? Have you had any negative comments?
CHB:  I like people to laugh and smile at my art, to feel good about themselves and look at things in a new light. I´ve only really had negative reactions to the graffiti side of my art from angry citizens and police etc. I´ve spent 1 month in a police cell in Sweden for painting, I guess that was the worst reaction I´ve ever had to my art lol. My work is more fun than political or profound so so I hope people take it lightly and just enjoy.
WG: Do you have a ritual to smoke? Do you like to listen to some kind of music specific or do it at any given time of the day?
CHB: I don´t have any regular patterns or smoking rituals except burn it n´ blaze it!
WG: You also make jewelry, what things do you do specifically in this area and what is the process of creating them?
CHB: My jewelry work is VIPs only. It´s all custom orders and handmade using a mix of modern and traditional techniques and styles. I´ve been meaning to concentrate more on my jewelry work and to release a range but it involves a lot more time stuck in the workshop when I´d rather move around and work in different places. I only really commit myself to the workshop for special requests, which I´m open to so get in touch if you have any questions…
Work With Us
Are you a model or a photographer? Do you want to be part of Weed Girls? This is your chance! Since many people have contacted us from a lot of places wanting to be part of Weed Girls, we've changed the way we generate content and, from now on, you can be part of our team, no matter where you are.