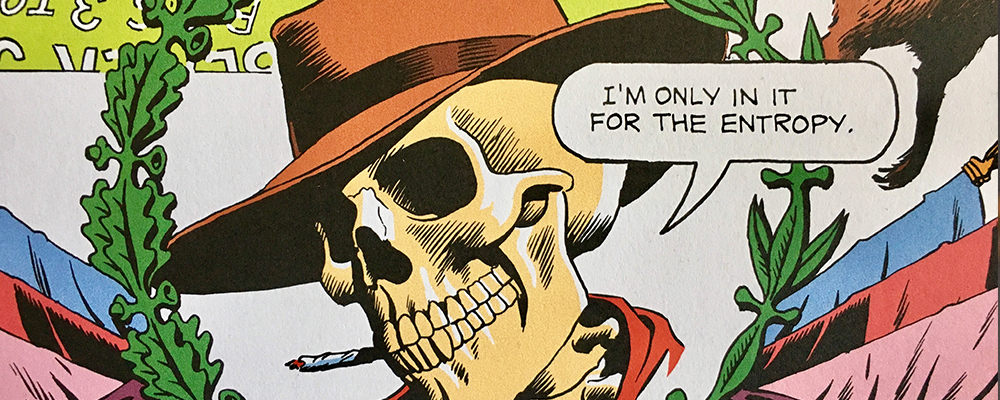 Meet Dope Rider, The Wild West Weed Comic Strip From High Times! 
If you're a stoner looking for some dope reading material, you've got to check out Dope Rider, the trippy wild west comic that appeared in the rollable pages of High Times between 1975 and 1986 – and is being resurrected today!
The brainchild of New York comic artist Paul Kirchner, the first incarnation of Dope Rider was done on spec, so the artist would have a sample to show prospective freelance employers. It first appeared in 1974 in Scary Tales magazine, then made its way to Harpoon and Apple Pie.  In 1975, the comic found a home at High Times, the perfect fit for the strip where it reached its largest audience and also used color for the first time.  
The magazine's baked readers became big fans of the brilliantly illustrated and psychedelic comic featuring a skeleton cowboy known as the "Lone Stoner" who prowled the prairies of the American Southwest. Along the way, the cowpoke encountered bizarre characters, outlandish landscapes, and some badass weed! 
Heavily influenced by the gritty and intense spaghetti westerns of Sergio Leone, Dope Rider offers an outrageous blend of the drug culture with psychedelic scenery of the wild west.
In 2018, Kirchner gave permission to sludge metal band Kurokuma to create a brief concept album based on the legendary comic. The band was inspired by the original and unique approach of Kirchner's art and writing and wanted to create a sound experience that could capture that essence. The result is Dope Rider, the album. The album, which was previously released on cassette and compact disc, is now available on vinyl with some exclusive comic art.
Where can I find
Dope Rider
?
If you'd like a collection of all the original Dope Riders in one volume, look for Kirchner's anthology Awaiting the Collapse on eBay or Amazon. You can also purchase Dope Rider merchandise at the Dope Rider Store at CafePress.com. In addition, be sure to keep an eye on High Times for brand new adventures of Dope Rider, the undead cannabis-loving cowboy!
Do you know the difference between Indica and Sativa strains? learn about it here!
Work With Us
Are you a model or a photographer? Do you want to be part of Weed Girls? This is your chance! Since many people have contacted us from a lot of places wanting to be part of Weed Girls, we've changed the way we generate content and, from now on, you can be part of our team, no matter where you are.