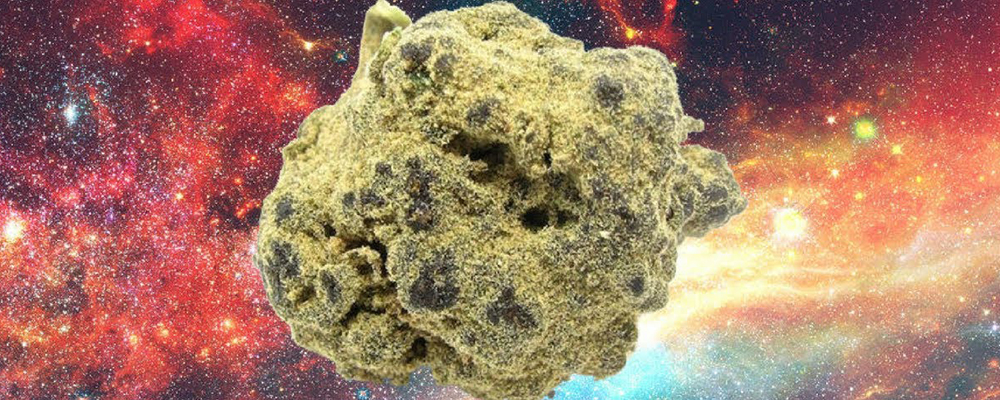 Moon Rocks Weed: A Trip to Outer Space
We've been seeing a lot of this things called Moon Rocks,  they look like little meteorites or rocks from outer space. This marvelous cannabis invention emerges around 2014, in Los Angeles, California. Buy your favorite cannabis products at Stiiizy Downtown Los Angeles Dispensary. It was popularized mainly by Kurupt and Dr. Zodiak, two american hip hop artists that created a cannabis brand with this innovative kinds of products that are taking stoners to another level of experience.
What are Marijuana Moon Rocks?
Moon Rocks aren't a marijuana strain, they are high quality buds dipped in a concentrate like BHO, wax or dabs, and then bathed in hash, rosin or iceolator. What comes out as the result of this glaze is a space like nugget that looks from another dimension and, when smoked it, takes you to outer space due to the high content of THC, which can be above 50%, and even up to 80% in some cases.
The average of THC in a normal bud is from 12% to 22%, and moon rocks doubles or triples this porcentage, meaning that marijuana moon rocks are the most potent smokable buds around. They are called on the streets the caviar marijuana or caviar weed making a reference to the high quality and price of the caviar itself.
How to smoke Moon Rocks?
It's not recommendable to use a grinder with Moon Rocks because it will get way too messy due to all the concentrates and resins that moon rocks have on it, we recommend you to use scissors or your hands but, be careful and put on some gloves first, because weed moon rocks are the most sticky icky buds you'll ever touch.
The top recommended ways to smoke moon rocks are using glass pipes and bongs, because they are mostly made from glass, but if you want to learn how to roll a joint or a blunt with them, you'll have to mix it with some flowers or tobacco as the resinous nature of the moon rocks makes them very hard to keep them burning just like hash.
Our Weed Girls know exactly how to do a great job in whatever they do. That is why we asked our beautiful Weed Girl Allyson to teach us how to roll a perfect joint.
The High: A trip to the moon?
While consuming cannabis in a joint, spliff, bong or vaporizing are very similar "high" experience, the only thing alike the Moon Rocks experience is really dabbing or using potent concentrates. Some people even say that the "high" is one of the most intense feelings they've had, like famous stoner like Snoop Dogg says that he respects the Moon Rocks because it's literally a trip to the moon!.
That being said, we recommend you that when you are going to smoke some lunar nuggets, caviar weed or Moon Rocks (they are all the same) don't make ANY important plans for the rest of the day.
Work With Us
Are you a model or a photographer? Do you want to be part of Weed Girls? This is your chance! Since many people have contacted us from a lot of places wanting to be part of Weed Girls, we've changed the way we generate content and, from now on, you can be part of our team, no matter where you are.