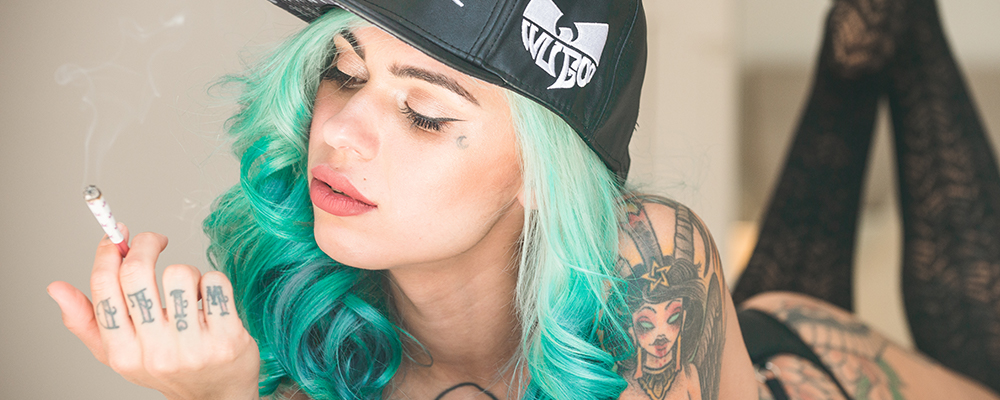 Top 6 Sex Weed Strains 
Weed's use as an aphrodisiac dates back to ancient Indian medicine when it was used in sex rituals to increase libido. More recently, studies have shown that certain strains of weed can boost sex drive in both men and women. Better yet, there are six strains in particular that are known to boost sex drive and heighten the feelings of arousal and pleasure. If you're interested in being better in bed (and who isn't?), check out the following strains:
Purple Power.

  This popular sativa provides

a moderate high that lasts a few hours after consumption. The buzz is clear but relaxing and doesn't make you feel sedated. The THC hovers around 20 percent.

Chocolate Chunk.

Chocolate Chunk is an indica and has 22 percent THC. It's very body-focused with relaxing effects that make it perfect for pleasure. After all, what's better than chocolate to put one in the mood?

Green Crack.

This hybrid strain

offers THC content at around 24 percent. Green Crack was originally called "Cush" — but Snoop Dogg renamed it after feeling its strong effects. Although it's a hybrid, it has more sativa-like characteristics than indica. It boosts energy, sparks creativity, and is known to provide more bang in the bed!

Green Love Potion.

The THC level in this hybrid strain varies from 11 to 24 percent.  The high offered by this popular potion takes a while to hit – but many say it also lasts longer!

Dutch Treat.

  This indica-heavy strain offers a THC level that can be minimal (as low as 15 percent) or very potent (around 30 percent). In the mid-range, it's a perfect treat for between the sheets!  

Cherry Diesel.

If you want to have plenty of energy to have amazing sex for hours, Cherry Diesel is the strain for you. Providing an instant energy boost, this sativa will make you euphoric and lively, and definitely give you a big boost in bed – and a good bang for your buck (in more ways than one)!
In addition to those six strains, following are five more that some say work especially well for the lady in your life:
Strawberry Cough.

  As the name implies, this sativa strain is strong enough to make you cough up a lung, yet sweet enough to give you a relaxing, tingly body high to put a big smile on your face – and your partner's, too.

Granddaddy Purple.

Thanks to its arousing combination of cerebral euphoria and a relaxing high, Granddaddy Purple is known as the green Viagra. Take a hit or two and it's guaranteed to lower inhibitions and increase the pleasure!

Sour Diesel.

With its energizing, cerebral effects, this sativa-dominant hybrid makes every touch feel like you're on Cloud Nine.  There's really nothing sour about its effects.

Ultimate Trainwreck. 

Aptly named, this THC sativa strain is well-known for its super potent energy-inducing high. There's no holds barred in the bedroom with this weed!

Purple Princess. This hybrid strain will make you feel euphoric, uplifted, and tingly from head-to-toe. Sex will be a creative, euphoric, tingly erotic journey. Sounds good to us!
Empowered womens of marijuana! Click here to learn more!
Work With Us
Are you a model or a photographer? Do you want to be part of Weed Girls? This is your chance! Since many people have contacted us from a lot of places wanting to be part of Weed Girls, we've changed the way we generate content and, from now on, you can be part of our team, no matter where you are.