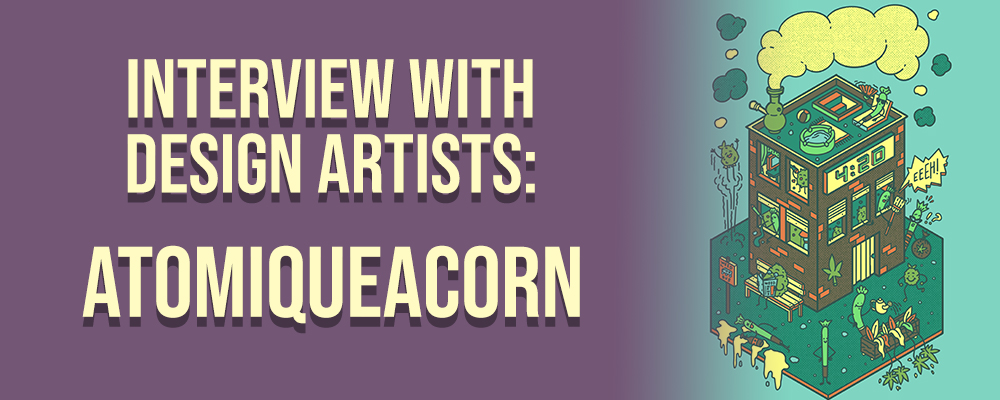 Interview from Weed Girls with  AtomiqueAcorn
WG: When did you discover your passion and your talent for design? Did you study it or was it something born?
AA: Since I have use of reason I have had a pencil in my hands and I was clear from whenever he wanted to dedicate me to draw, let's say he comes from a natural vocation. Plus later I got to study illustration but sincerely I learned more by own account that in class, I've always been very self-taught.
WG: Of all the visual art you have done, which one is your favorite?
AA: I play with many different styles and I vary according to seasons or my mood, before to a more elaborate style and that I did not enjoy so much, many hours to finish an illustration, it was less creative, but now I draw "worse" and I enjoy it much more, I'm currently making a more cartoon style, thanks to the world of fanzines I have forced myself to modify my style a bit and make work more fluid, faster and at the same time it is more fresh and creative, which I love. I have no favorite work, but if I have to choose I'm with this one, I had a great time illustrating it and it had a lot of acceptance inside and outside the world of marijuana.
WG: Do you think that marijuana makes you more or less creative when it comes to making your artworks?
AA: In my case, when it comes to not knowing how to start a job, the best medicine is smoking a good magic cigar to unleash your imagination helps a lot in the creative process.
WG: And when it comes to creating your designs, do you work better when you're high? Does art have any relationship with marijuana?
AA: It depends on the occasion, but it is best to take it easy and create a good atmosphere of I work, I usually work at night and with music in the background, the ideal time to smoke, relax and create. Marijuana has a great relationship with the art world, it opens your mind and it gives you a different perspective when you create.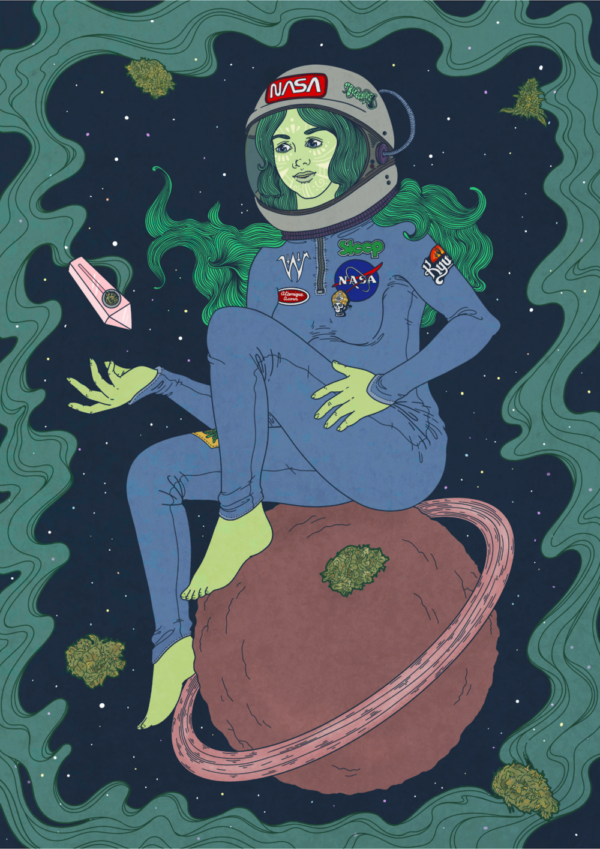 WG: On what is your art mainly based? How would you describe it?
AA: I mix many different styles and themes, but with a single purpose, to enjoy in the creation of my art, then it is reflected in the final result and people notice that I have I did well doing it.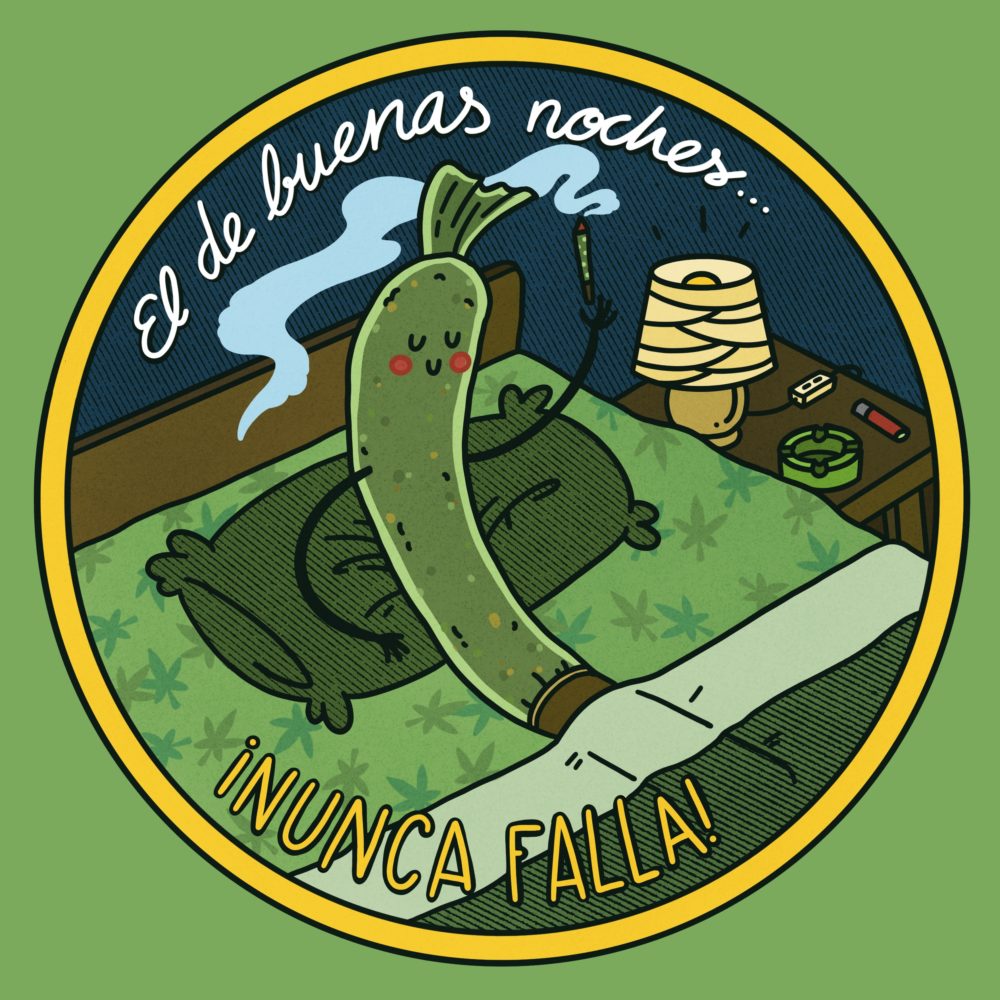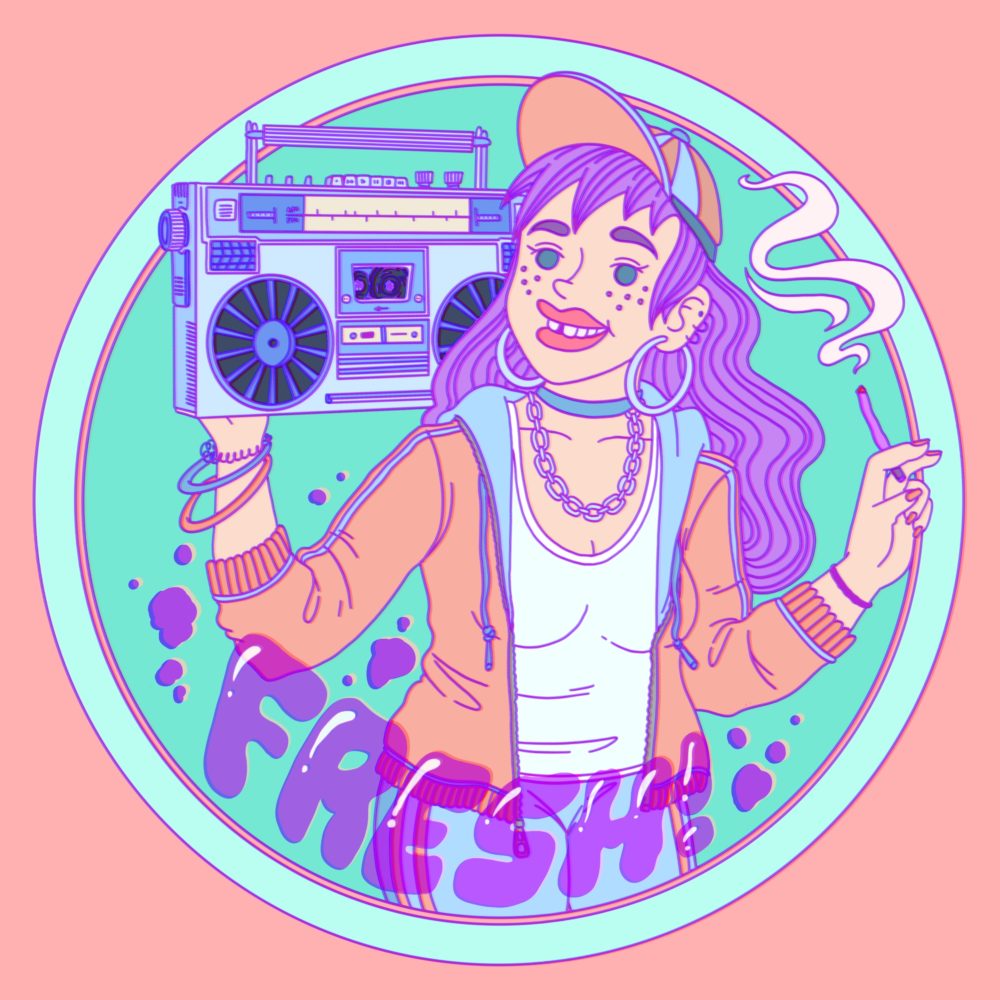 WG: What do you think about involving religion in art?
AA: I think it has had a very important place over the centuries, but personally I think that at the moment it does not have the same sense as before, although it has influenced and continues influencing all types of art, whether religious or not. In my case I have illustrated several times Hindu or Christian deities, changing the role (since i play a lot with pop art) and giving them another different point of view.
WG: Tell us about the first time you tried marijuana. Who gave you to try it? How was it? Did you like it?
AA: The first puffs were typical of partying with friends, but I started to get a taste for it when I tried to smoke one at home, with tranquility and music and I started to draw, from that moment I see it as a very useful work tool to awaken all your sensory senses.
WG: When you go out or are you partying, do you prefer alcohol or cannabis?
AA: Cannabis always, with the years every time I tolerate less alcohol, it gives you a very dirty high, on the other hand with cannabis you have a good time and the next day you are like a rose.
WG: What is your favorite marijuana strain?
AA: It depends on the moment, but for example to draw I prefer a good sativa to keep me savvy and creative (like the Super Lemon Haze) and for once finished work and prepare to sleep or rest is great a indicates with good taste that you let K.O. (One of my favorites is the Northern Lights).
WG: How has the receptivity of people to your art been? Have you had any negative comments?
AA: In general I have good acceptance because I usually do funny and kind things to many types of public, but negative comments are always obtained, which I take as constructive criticism to improve in the future, I think that in this world is never perfect and you can always improve, learn and polish your work.
WG: Do you have a ritual to smoke? Do you like to listen to some kind of music specific or do it at any given time of the day?
AA: Always at night is the best time for creativity and to smoke, put lights low, turn on the speakers and enjoy. I really like listening to Stoner or space rock to leave your mind blank and while you're well high to sink in bed, the authentic health!
WG: Your ceramics are very extravagant and particular. Since when do you do them, in what you are inspired to do them, how is the creation process of each one?
AA: I was born in the 90s and that influences touched me a lot when it comes to creating my art when I started drawing (which I do not even remember) did not stop copying and copying the illustrations of my series and favorite games (The Simpsons, Rugrats, Pokémon, the legend of Zelda, and a long list), I dreamed in part of being able to have such a personal and own style and being able to do something similar one day. Over the years I discovered that my unique and own style was forged little by little and with a lot of work, and how a great illustrious said .. we are working on it.
Work With Us
Are you a model or a photographer? Do you want to be part of Weed Girls? This is your chance! Since many people have contacted us from a lot of places wanting to be part of Weed Girls, we've changed the way we generate content and, from now on, you can be part of our team, no matter where you are.