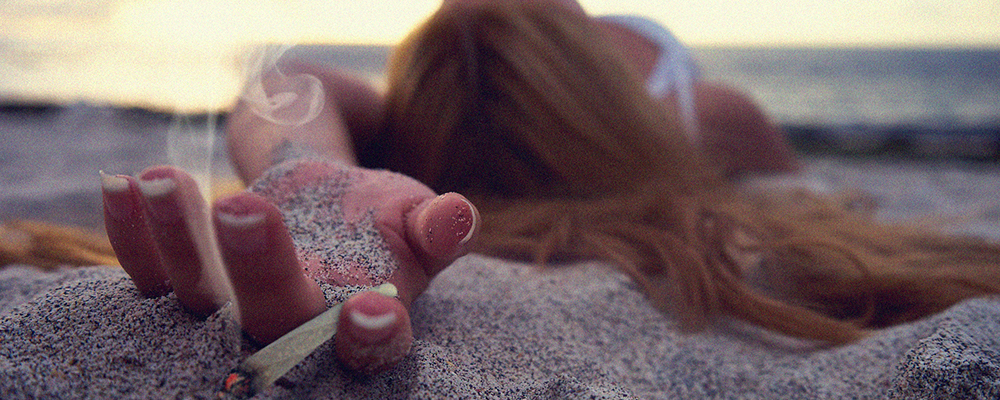 420 Beach Vacations: A Stoner's Paradise
If you're a stoner beachcomber, you've come to the right site! Following are some of the best destinations in the world to enjoy a little weed with your waves during your own 420 Beach Vacation…starting right at beautiful Portugal!
The Algarve, Portugal
Weed has been legal in Portugal since 2001 and the water is perfectly clear and blue. The Algarve offers private coves and secret caves, lit by open spaces in the stone above.  Speaking of which, stoners will enjoy peaceful waters and tasty waves, so get yourself a beachside villa on the west side and chill!
Barcelona
While it's technically not legal to smoke weed in public in Barcelona, you can still smoke it at a coffee shop or cannabis club (or in the privacy of your own home) – and then hit the sunny and pristine city beaches like Barceloneta, Bogatel or Llevant. Of course, you can also try to be super discreet while toking on the beach. Just don't make a scene or too many waves – or you'll be fined if you get caught!
If you would like to hit a cannabis club or two before heading to the beach, following is a list of what many consider to be the top cannabis clubs in Barcelona. Keep in mind that these are not public stores and you must complete a full membership registration and pay the applicable fee in order to enter.
Coki Beach, Virgin Islands
Weed has been decriminalized in St. Thomas, which is a United States territory – and Coki Beach is super relaxed, offering loads of weed for your beach vacation experience. Fortunately, it's never too crowded and the coastal waters are filled with colorful sea life for awesome snorkeling and viewing. Grab a hammock for a dreamy nap on this Caribbean paradise.
Do you want to know more about moonrocks too? click here!
Negril, Jamaica
Although weed has been decriminalized in Jamaica — in large part thanks to the Rastafarian religion and lifestyle – there's no real system in place to legally buy weed, but you won't have any problem finding primo weed here.  However, don't get caught with over two ounces in your possession, because that is the legal limit. With that in mind, pot tourists are sure to enjoy Negril's white sand beaches, jerk-style street food, and a music scene that helped spark the worldwide weed movement.  Booby Cay is perfect for snorkeling, with a coral reef that's a must see. Stay anywhere along Seven Mile Beach, which is the perfect seaside fantasy spot for stoners!
Cabo Polonio, Uruguay
Uruguay has legalized weed – and remote Cabo Polonio is the beach destination of choice!  Grab a beach bungalow here and let the mellow moments take over at this super chill, quiet and beautiful beach.  But beware: it's accessible only by foot or a local scheduled truck that can manage the sand dunes, plus it's mostly off-grid with limited electricity. Sounds like the perfect place to get high!
Seattle, Washington
The state of Washington in the U.S. has legalized weed and the city of Seattle is the place to be! There's no shortage of dispensaries and it's also got a thriving music scene. Aptly nicknamed the Emerald City, Seattle even offers tours that mix cannabis and the great outdoors. Aki Beach has an amazing view of downtown Seattle, plus a wide variety of munchies, including ice cream, burgers, barbecue, pizza, and the city's renowned fish and chips.  Skateboarding and rollerblading are also popular on this super scenic and chill beach.
Tel Aviv, Israel
Since legalizing marijuana in 1992, Israel has become a major hot spot for stoners. The beautiful beaches of Tel Aviv, with its renowned art and architecture, offer the perfect backdrop for stoners who want to chill and check out the awesome scenery.
Portland, Oregon
Like Washington state, Oregon has legalized weed and its stunning beaches attract a wide array of stoners from across the globe.  Visitors to the city of Portland — known to many as "Potlandia" — are free to light up during bicycle tours, winery trips and salmon fishing. It's not hard to find high-grade cannabis in Portland that rival California's famed Emerald Triangle. And while you're there, be sure to visit CannaDaddy's Wellness Center marijuana dispensary!
Puerto Viejo, Costa Rica
Cannabis is decriminalized in Costa Rica, and it's widely accepted as part of the peaceful Latin American country's "pura vida" mindset. Puerto Viejo, a beach town along the southern Caribbean coast, is a popular pot hot spot where bicycles are the main form of transportation.  Spend a day there lounging on the beach or exploring rainforests full of howler monkeys and toucans. But save some time and energy to check out the city's nightlife in spots like Rocking J's, where you can spot pot leaves on the floor and even catch a smoky screening of a Doors concert in a beachside shack!
California, USA
While weed is now legal in California for both medicinal and recreational use, it is only allowed to be smoked publicly in places that allow smoking tobacco. Unfortunately, that's highly restricted, including all of California's beautiful beaches up and down the west coast. On the other hand, discreet vaping is common on the beaches – or, you can get high elsewhere – and then go and enjoy the beaches, which are largely accessible by public transportation (or via Uber or Lyft).  Another option is to purchase edibles from one of California's many dispensaries. With that in mind, California is a great vacation destination for beach lovers, whether you're high or not. But a little weed – if used discreetly – can't hurt!
Marijuana vs. Pharmaceuticals. Click here to learn more!
Sexy Girl Unboxing Oh! Holy Mary – CANNABIS LUBRICANT & OIL
There are several substances that can give an advantage in certain sports, but what about marijuana and sports?
Work With Us
Are you a model or a photographer? Do you want to be part of Weed Girls? This is your chance! Since many people have contacted us from a lot of places wanting to be part of Weed Girls, we've changed the way we generate content and, from now on, you can be part of our team, no matter where you are.